We recently brought a new client on board who has been running AdWords for some time. They have been running both search and display campaigns (GDN) with varying success. When they called us, they were looking to specifically improve their display network campaigns as they felt there were spending way too much money on it with little results.
Upon doing an audit of their display campaign, we noticed a major issue with their account and quite possibly, one of the key reasons why their display campaigns were costing them a huge amount of money.
So, the culprit in this case was their ads being displayed on literally thousands of mobile apps. Whilst each click is only on average about $0.30, this certainly adds up over time and over thousands of mobile apps!
You can see in this picture below a screenshot of the top ones which were costing the most money. Needless to say, there were pages of these.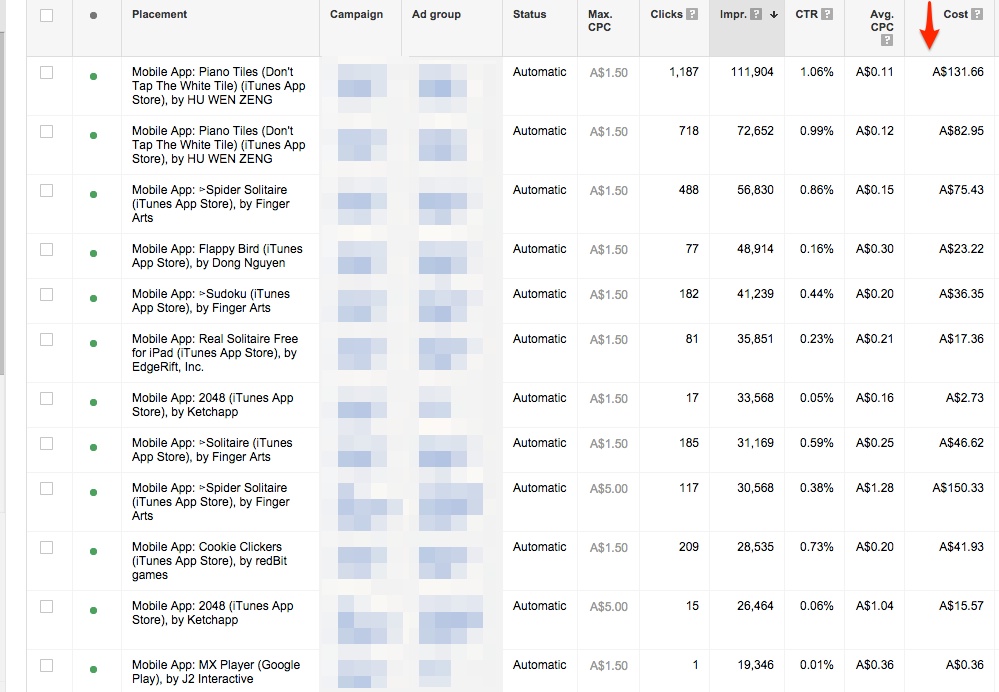 So, how much money was being wasted on mobile apps?
To be specific (we are a data driven company after all), it adds up to $4,782 worth of wasted ad spend! We downloaded all of the data and compiled it in a pivot table to work out the breakdown as you can see below.

Whilst you theoretically could add each mobile app as a negative placement, it would certainly take you a while and you would also have to continually do this since mobile apps are always being added. So, we have actually outlined a much simpler method of excluding your ad from showing up in such places. For the full step-by-step process, you can refer to it here.
We also created a short video on how to check if your ads are showing up for mobile devices….
It amazes me just how often I see this mistake being made time and time again. And, whilst I love Google AdWords, I really don't like giving Google any unnecessary money
So, please make sure you don't make this mistake like this poor client did!