We just love stories like this.
Why? Because this is a successful case study on a very small budget.
I really feel that most people can get some success with paid traffic with a large budget. But to get good results on a small budget is an entirely different proposition and skill set.
And this is where the real power of Facebook ads lies – in making paid traffic accessible to local businesses without the need to for a large budget.
Background
A local business approached us for some assistance to help them increase their customers. The business teaches music lessons to babies and toddlers and they hold a number of classes at different times of the day, in 3 different geographical locations. So, the goal of the campaign was to boost enrolments.
To enrol in the classes, you need to commit to a term which is about 12 weeks. But they offer potential new students a trial class which they have to pay for, but without a term commitment. Once the trial class is completed, most people commit to a term.
The Offer
As we mentioned, the goal of the ad campaign was to boost enrolments overall. And since they already offer a paid trial class (without having to commit to a term) we decided to offer a 2 for 1 trial class for all new students.
Target Customer Research
This businesses target customer is a mum with a baby or toddler. Since most mums are on Facebook, engaging in conversations there,Facebook was the obvious and ideal platform to advertise.
And, from a targeting perspective, Facebook is an amazing platform to identify and isolate such their ideal customer. In fact, there were a number of different targeting metrics we used for this campaign.
Not only did we target parents directly, but we also targeted various organisations and pages that are generally 'liked' by mothers. Of course, identifying and analysing such pages required an in depth market analysis of ideal customer traits – this is really a critical step to the success of such a campaign.
It is also worth mentioning that success with Facebook ads really hinges equally on both the targeting (who sees the ad) and also the offer / ad (what you are advertising).
If you have a great offer but it is shown to the wrong people, no matter how good the offer is, it just won't work. Same goes the other way round. If you target the right people, but your offer isn't great, it also won't work.
It really is as strong as the weakest link.
The Campaign
The campaign ran for a total of 5 days, so it was quick. Therefore, it was important to get right from the very beginning and there was no room for error.
Here is a screenshot of the ad we were running. Short and sweet and nothing too fancy.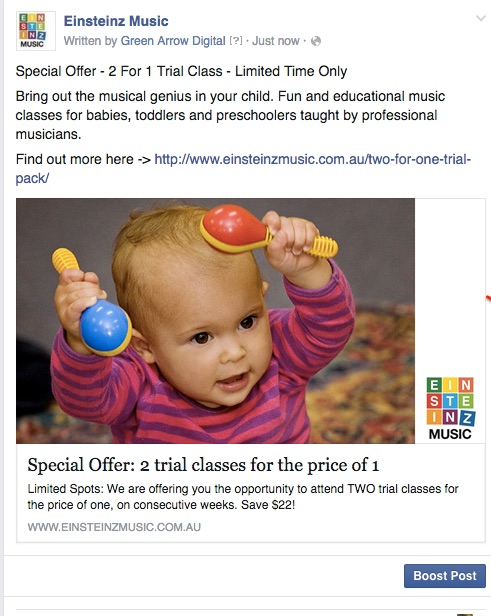 The Results?
Now we get to the fun part of this case study – here are the stats.
They spent a total of $240 in ad spend over the 5 days. So, a little under $50/day.
27 applied for the offer

6 wanted to enrol but couldn't make the times available

3 were waitlisted for their preferred time, so not booked in

16 actually booked in a paid for their class.

5 ended up enrolling in the entire term
Total ROI from trial classes and enrolments? $1,023.
So, spent $240 on ads, earned $1,023.
This obviously would have been even higher had the business been able to accommodate everyone who applied, but still a result we were all happy with.
Want to run your own Facebook ad campaign but unsure where to start? Just contact us and we can help you!